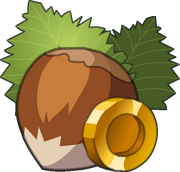 Hazelnuts are Bouboum's Shop currency. It displays the amount of hazelnuts you have in the shop aswell. Nuts are spent in the shop to gain special characters.
Some characters are more expensive than others so be sure to do the best you can and pull in those nuts!

The

Hazelnut+ powerup spawns 1-9 hazelnuts when used.
Collecting nuts
Edit
You can pick up nut tiles from the blocks you blow up and players that you kill. No one else can see these tiles but you.
Your nut tiles can still be blown up/have bombs placed over them though.